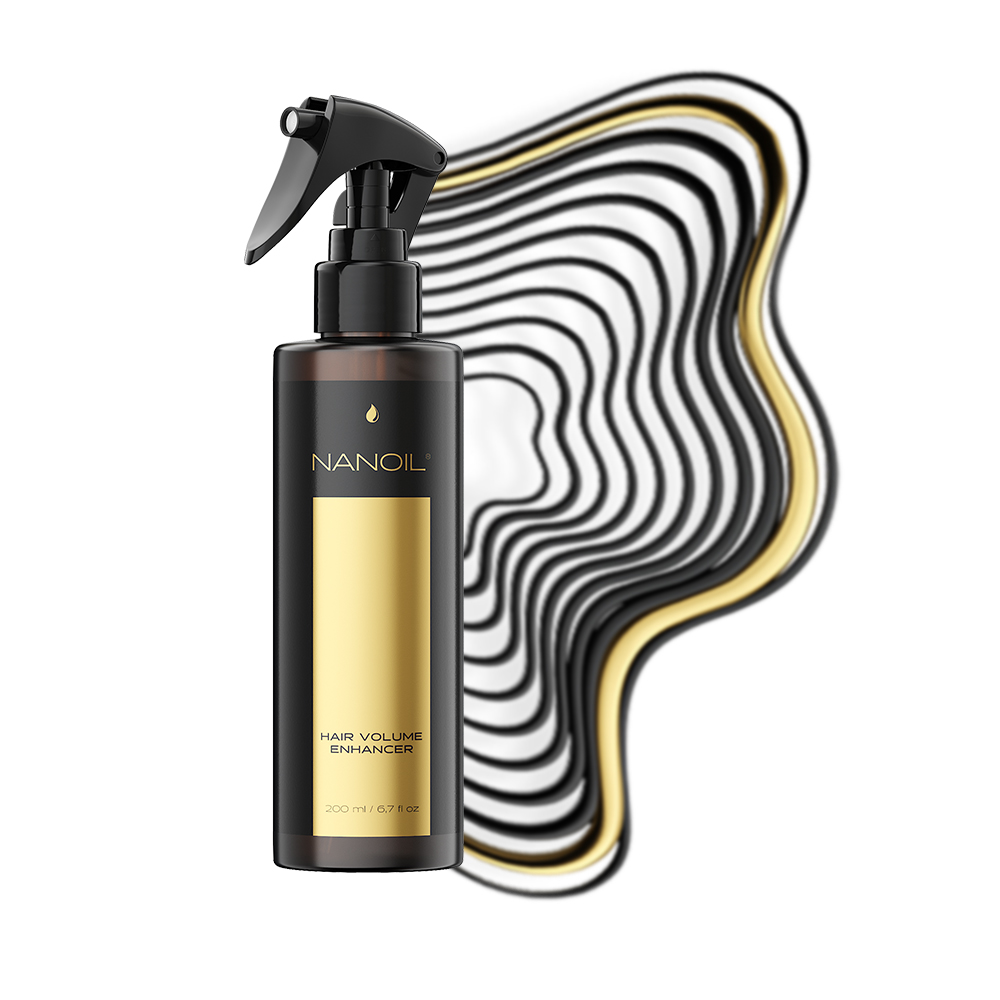 You enter a drugstore to buy something that would make your hair look better, but when you go to the "hair care" alley, you're immediately bewildered by the number of products you need to choose from. You pick one, get back home, apply it and… you end up with flat and limp hair. "Throw it away or give it away? Maybe my sister would like it…", you wonder. Next day you go to another drugstore, hoping that this time you will find exactly what you came for. You pick a product, pay for it and leave the shop. At home it turns out that the cosmetic leaves you with stringy hair. "Ugh… Money dumped down the drain. Again! Does it have to be so hard to find the right product?", you wonder. The good news is that it doesn't have to be so problematic to create the hairstyles you want. We've found something that turns lifeless strands into a fabulous hairstyle. And its name is Nanoil Hair Volume Enhancer.
Nanoil Hair Volume Enhancer for fabulous blowouts
With this product, it will be easy for you to add spectacular volume to your hair. And the best thing is that it won't take you long to create this jaw-dropping effect at home. The lightweight formula is made up of ingredients that contribute neither to dryness nor color fading. Actually, Nanoil Hair Volume Enhancer is enriched with nutrients that boost shine and make hair more elastic.
What hair type is Nanoil Hair Volume Enhancer good for?
It serves literally all hair types. This means that you can use the spray even on delicate and oily hair to create the volume it deserves. It gets even better after realizing that Nanoil Hair Volume Enhancer works in all conditions, keeping the hair good-looking and healthy even when exposed to strong wind, freezing temperatures, snow or harsh sun.

Pluses of using Nanoil Hair Volume Enhancer
This spray cosmetic is perfectly able to help you create the spectacular volume that lasts for long hours. However, this isn't the only thing Nanoil Hair Volume Enhancer is designed to do. With this product you will:
lift the roots off the scalp,
pump up more volume to your style,
get fuller-looking hair,
deliver moisture,
smooth out the hair (no tangles!),
cope with flyaways and frizz,
protect the hair from unfavorable weather conditions.
On top of that, Nanoil Hair Volume Enhancer will make your hair smell nice and remain soft. You don't have to worry that it may leave you with crunchy and stringy strands because Nanoil has zero oils and zero dehydrating agents. Instead, it's composed only of the well-selected ingredients guaranteeing you quick styling and natural finish. What are the ingredients?
Nanoil Hair Volume Enhancer – ingredients
It would be hard for Nanoil spray to give your hair so many things, if it wasn't for its thought-out formula enriched with hair-loving substances. Owing to them, hair treated with Nanoil Hair Volume Enhancer becomes healthy, fuller-looking and simply beautiful. In this product, you can find:
WHEAT PROTEINS

add more body to the hair, making it look healthier and thicker. They are also responsible for promoting smoothness and increasing elasticity in hair.

HYDROLYZED KERATIN

penetrates through the outermost hair layer to fix damage. This is how hair has a chance to get stronger, fuller and easier to style.

VITAMIN B5

is able to tame even the most unruly wisps that exist. It's also the key moisturizer that traps water inside the hair and promotes shiny appearance.
If you find your hair awfully hard to control and if it loses volume too quickly, reach for Nanoil Hair Volume Enhancer. In no time will it improve the appearance of your lovely tresses, pumping more volume to any hairstyle you only imagine. With this Nanoil spray, you will leave others awed by the size and beauty of your blowouts.
Nanoil Hair Volume Enhancer, together with other Nanoil hair care products, can be ordered on nanoil.us. While being there, don't forget to check out Nanoil's micellar shampoos, hair masks and other styling sprays.
---