Say Goodbye To Dry Skin! Go For GHASEL Maltese Honey Face Moisturiser!
Dry and patchy, dehydrated skin… it sounds familiar! Looking for a good moisturizer, but none are delivering the expected results? It's time for a change. GHASEL Maltese Honey Face Moisturiser is a deeply moisturizing face cream that can satisfy all your skin needs.
The high concentration of Maltese honey makes it the best nourishing product straight from Malta. It's the sweetest honey in the world with the strongest moisturizing properties for the skin. Plant extracts, caffeine, castor oil or shea butter provide the cosmetic with a multi-tasking nourishing formula.
GHASEL face moisturiser- perfect for everyone.
Yes, you got that right! Maltese Honey Face Moisturiser can adapt to any skin type regardless of age. Its anti-aging properties deal with free radicals, oxidative stress, blemishes and skin problems.
The unique Maltese honey, the top ingredient, delivers long-lasting hydration. Its antioxidant properties, used daily, leave the skin flawlessly beautiful, smooth and revitalized. The skin looks radiant and regains its even tone.
The vitamin-rich shea butter is an equally important ingredient, which promotes skin regeneration. This substance stimulates collagen and elastin production, providing a youthful appearance of the skin. Shea butter prevents moisture loss, reduces signs of aging and discolorations, smooths wrinkles and combats acne.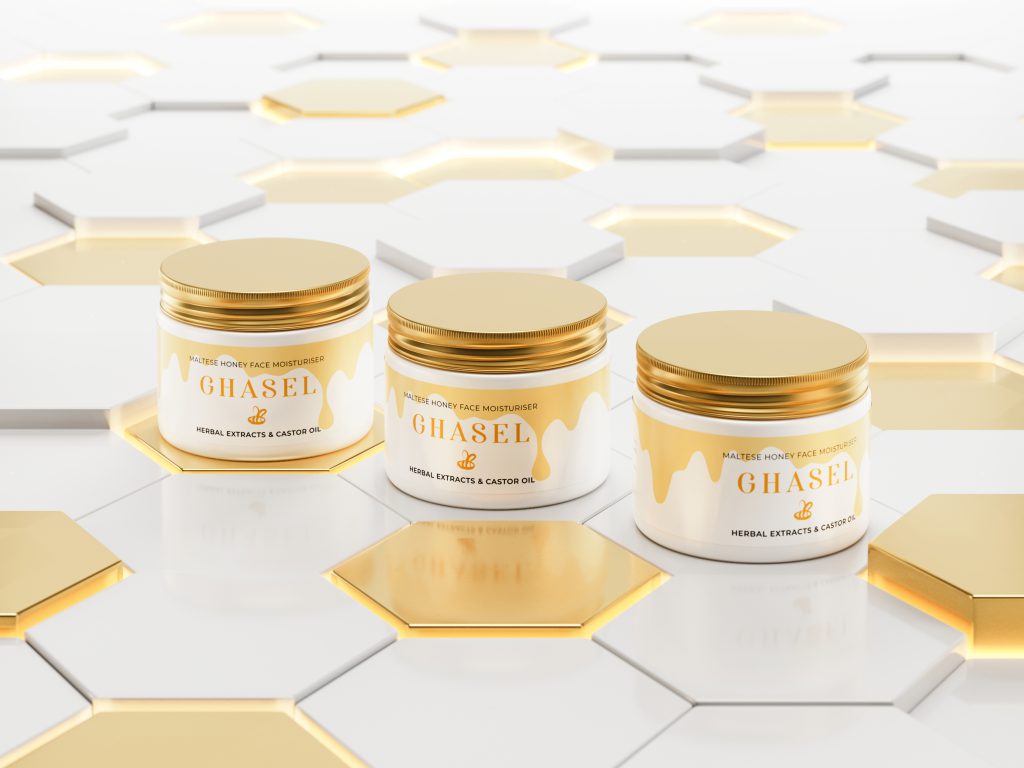 Caffeine has stimulating properties on the skin. It eliminates signs of fatigue and puffiness, leaving the skin looking radiant and fresh. Caffeine contains natural UV filters, which protect the skin from harmful environmental factors. This ingredient can slim the face, properly oxygenate it and prevent wrinkles. This natural antioxidant prevents skin cancer.
Green tea extract moisturizes, soothes inflammation and irritation and tones dull and polluted skin. It regulates the sebaceous glands, delivering perfectly matte skin without the feeling of dryness. It has antiseptic properties and reduces the harmful effects of UV rays. Sage extract protects the skin from environmental factors. It has calming and toning properties. It's an ideal cosmetic ingredient for mature and problematic acne-prone skin.
It's also rich in castor oil, which improves skin suppleness, reduces discoloration and puffiness and its anti-inflammatory and antibacterial properties combat bothersome skin imperfections.
Maltese Honey Face Moisturiser – relief for your skin.
This soothing and moisturizing day and night face cream provides relief to dull and dry skin. It protects it from impurities, strengthening its hydrolipid barrier, prevents water loss, nourishes and regenerates.
The top-quality ingredients deliver the maximum moisturizing and protective properties. This is the first step toward maintaining a healthy, naturally radiant and youthful complexion.
The regular use of GHASEL moisturiser leaves the skin calm and refreshed, free of wrinkles, redness and irritation. It's suitable even for the most problematic skin. Don't hesitate! Go for Maltese Honey Face Moisturiser and feel how Maltese honey regenerates your skin. Learn more about the product: www.ghasel.mt.
---