Famous fashion designer, Yves Saint Laurent, has yet again created cosmetics for eye make-up. This time we got eye shadows, Couture Palette. All of the cosmetics have unique colours, provide different finish and are perfect complementation for your make-up. Read below, what else is so original about YSL product.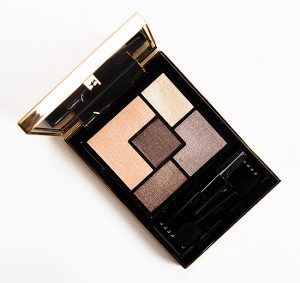 Yves Saint Laurent Couture Palette have an interesting case with writing on it: KEEP AN EYE ON ME. Inside are two applicators and a small mirror. You can choose out of 12 different colourful palettes. There are five shades in each so that you can perform trendy and original make-up. Therefore, there are cosmetics in grey, red, violet, blue, brown and green shades.
How should you apply Yves Saint Laurent Couture Palette?
To gain a remarkable make-up effect you can apply this cosmetic wet or dry. When it comes to the dry application, you will obtain the most natural and subtle result. The colour depth of eye shadows you can extract if you use a wet brush. Cosmetics by Yves Saint Laurent have 12-hour wear, do not flake or wear down and are crease-resistant. Eyeshadows ensure pearl or matte finish.
Thanks to Couture Palette smoky eyes make-up is within reach. How to execute it? The lightest colour in YSL palette apply in the inner eye corners, and the darkest – on the outer corners. Remaining eyeshadows use in the central part of the eyelids. Remember to blend all the colours – the lines between them cannot be noticeable. For a perfect finish, draw a line on the lashes line and use some mascara. Your eye make-up with Yves Saint Laurent Couture Palette is ready.