Rainbow eyelashes, expressive lips, or perhaps visibly emphasised cheeks. No doubt even one small detail can define the make-up. Check out what will be the hottest trend in the upcoming season. This mini trends were loved by variety of women. Will you join them?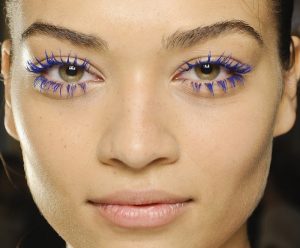 Rainbow mascara
Pink, blue or yellow. These are colours we associate with summer, the sun and vacation. Can you use them in the winter as well? Of course, you can! This sort of vivid shades will beautify your face and refresh the dull, winter aura. Remember that very important is right colour of the mascara. Brown eyes will like purple or brown mascara, green eyes – dark blue, and blue eyes – dark green. Do you know how you should apply colourful mascara to extract what's best in your look? You can apply it on the black mascara or directly on eyelashes. Curious solution is to cover upper and lower eyelashes with different colours.
Cheeks and lips
Blush and expressive lips are also hot in the upcoming season. If you go for this type of make-up, your face must be impeccably smooth. With foundation or concealer matching your skin complexion cover all the imperfections. On eyelids apply nude, yet slightly shimmering eye shadow. Apply matte powder and lighten skin. It is time for the blusher and the lipstick. Their shades have to match, while the effect should be as natural as possible. Apply blusher with large, fluffy brush; apply it step by step to avoid unaesthetic spots. Use lipstick in natural colour of your lips. Sadly, this type of make-up is not suitable for people with couperose or sensitive skin prone to redness.
Bright eyelids
The upcoming season is all about bright, expressive and energetic eye shadows. The best are: turquoise, celadon, lemon, raspberry. Apply it on the entire eyelid or just along the eyelashes, like eye liner. If you are courageous girl, you can apply on upper and lower eyelid colours in contrasting shades. This type of make-up is 100% perfect idea for the party. Remember that it must be symmetrical and well polished. Loose particles that fall down the cheeks, gather with a cotton pad wet with make-up remover.