In winter, your skin looses large amounts of water, quickly becomes very dry and coarse and is exposed to irritations. Sometimes, even your favourite hydrating face cream fails to improve its condition. It is time to think of another method of face treatment. Read and check how to do a winter make-up that will protect your skin from drying.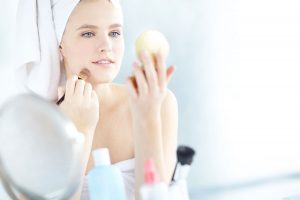 First of all, smoothing and moisturising
You have to choose a cosmetic that will moisturise and smooth your face at the same time. Instead of using two products (a primer and a foundation) go for a BB or CC cream. It will beautify and nurture your skin, protect against frosty air and low temperatures. What is more, it will even out skin tone,  camouflage dark under eye circles, smooth wrinkles and nourish your complexion. All you need to pay attention to is to choose the right shade od the cosmetic and apply it evenly to your face and neck.
Secondly, use make-up brushes or sponges
In order to maintain proper moisture level in your skin, use brushes with dense and soft bristles or synthetic sponges for applying your foundation. How to use such applicators? Pour a small amount of the cosmetic onto the top of your hand to make it a bit warmer and become more formable. Next, using the applicator of your preference, gently scoop some of the product and pat onto your face. Blend it well and apply a light layer of setting powder.
Thirdly, waterproof mascara
Waterproof mascara is a cosmetic that is especially useful in winter. Choose the one that will curl, lengthen and thicken your lashes. Why is it so important to buy waterproof mascara? It must be resistant to snow, rain, wind and tears. Whats is more, if you want to moisturise and nourish your eyelashes, you ought to reach for mascaras with the content of natural ingredients. Additionally, you can use one of the following oils: jojoba or castor.
Fourthly, creamy cosmetics
They moisturise, nourish and provide stunning effects. Their lightweight, creamy formula allows accurate application without the unwanted mask effect, smudges and stains. Such products can be used on the apples of your cheeks instead of a powder blusher, on your lips instead of sticky lip glosses or matte lipsticks, onto your eyelids instead of eyeshadows or eyeliners. Always choose colours that are close to your natural skin tone. Those can be light pinks, corals, gentle oranges or reds with a hint of blue.
Last but not least, highlighting powder
Everyone needs a hint of gloss during gloomy winter days. To beautify your face, use highlighting powders. They come in the form of loose or pressed powders, choose the one that suits you better. Simply apply it to the top of your cheekbones, nose ridge and middle of the chin. This way you will not only set your make-up but also enhance your best features. Do you know that this cosmetic can also replace your eyeshadows? Apply it with a small brush to the middle of your eyelid or inner corners of your eyes and admire the effects.