Warm water, a lot of foam and relaxation. This is what a bath makes us think of. It is beneficial to our skin, blood and muscular system. Check the healthful properties of lying in a bathtub, and which products to use.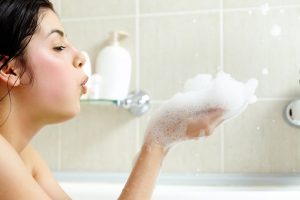 Bath Treatment
If you want to stimulate or warm up your body during a bath, you should learn a few important rules. Check the temperature of water before getting inside the tub. 28°C is refreshing and stimulates blood circulation. Tepid water (up to 37°C) lets you relax and calm down. 42°C works for those who want to warm up or have a cold. Warm water releases muscles and helps us fall asleep. If you want to enhance blood system, 5 minutes in a tub will be enough. 15 minutes will be ideal for those who need soothing and relaxation. Long baths are not recommended for people who have vascular skin.
Bath Additives
You can pour some oils, salts or cosmetics to water. Moisturising and nourishing products bring amazing effects. They soothe irritation, provide skin with protective lipid-water barrier, smooth, limit dryness and make epidermis elastic. Cosmetics with omega-3 and omega-6 acids also have a positive influence. Use salt during your bath. It offers healing and beautifying properties as well as contains lots of minerals e.g. iodine, magnesium, potassium, iron. Bath salts help to exfoliate the epidermis and prepare the skin for further conditioning treatments.
Bath soothes and relaxes
Add a few drops of essential oil to the tub to enjoy the bath to the full. The oil will get inside the body more quickly thanks to open skin pores and respiratory system. Thyme oil enhances immunological system and blood circulation, and makes you feel better. Green or black tea oil has similar qualities. Use lavender oil while taking a relaxing bath. It will soothe irritations and speed up wound healing.