Spring 2017 make-up is going to be subtle and natural but also colorful and original. You will have to make some parts of your face pop, like lips, eyes or cheeks. Check out below, how you should apply your make-up to look beautiful and trendy.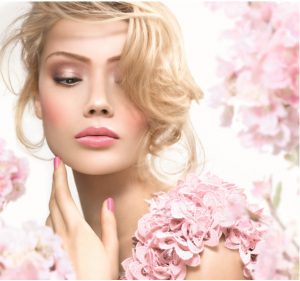 Highlight
There is nothing better for your skin glow than a highlighter. Similar effects you achieved with strobing, which is contouring with a highlighter. Emphasize those parts of your face you think are your greatest asset. Always choose cosmetics with the content of fine shimmering particles. An attractive solution will also be wet face effect. If your skin is perfectly smooth, you just need some cream or moisturizing make-up base.
Smoky eyes is not going anywhere
However, in the spring, it should be more subtle. That is why you should use pastel or nude eye shadows. This year trend will be smoky eyes created with eye shadows "dragged" towards the eyebrows. Effective will also be wet eyelid effect. To achieve it apply some petroleum jelly or colorless lip gloss. However, you may consider using some bright, colorful and extravagant eye shadows. Remember to style the eyebrows and to perform natural face makeup.
Lip make-up
This season is all about vivid colors. Apply some red, plum or orange lipstick. Nonetheless, be careful; if your teeth have yellowish shade, bright lipstick can only put more stress on it. It is safer to choose lipstick in pink, red-pink or pink-violet colors. Match it with a lip liner and (possibly) use colorless lip gloss.
Blush
In the Spring 2017 stick to natural and gentle make-up for your face. Apply blusher in the shade matching your skin complexion. Another trend is going to be nude make-up with blusher applied on the temples – it's version for those of you who are bolder. Do not forget that blusher can always replace eye shadow.