Dark circles and bags under eyes are a nightmare to many women. Unfortunately, most of them do not know how they can camouflage these imperfections and how to take care of skin around eyes in general. If you are one of these women read the text below and you'll find out what concealers and creams should you use to look more beautiful than ever.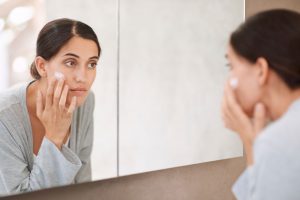 Concealers that camouflage dark circles under eyes
Sadly, dark circles and bags under eyes cannot be camouflaged with standard concealer or foundation. You will need special cosmetic, so called camouflage or primer. These products can conceal redness, spider veins, yellowish and dull skin. You just have to match right colour with the imperfection. For redness best is green or blue base. Blue coloured imperfections are best camouflaged by peach or orange base. Brown or yellow circles will be covered by violet cosmetic. However, dull and fatigued skin will be refreshed with pink coloured base.
How to take care of skin with imperfections under eyes?
The most important is proper care. Use eye cream with delicate texture or soothing, strengthening and nourishing action. These products should contain: aloe, antioxidants, hyaluronic acid, retinol and vitamin K. Apply cream above eyebrows and in areas where eye socket bone can be felt. Do not apply it right under the lower eyelid, because you can cause eye irritations. Before you proceed with application of concealer or base, wait a moment, so that eye cream would absorb.
How should you apply concealer?
Thin layer of concealer apply on the foundation and/or camouflage. Spread it thoroughly starting in the inner eye corner and ending on the opposite side. To fix all the cosmetics, use transparent powder. Which concealer should you choose? Best coverage is provided by concealers in stick – used for spot camouflage. Creamy formula have concealers in a jar and baked. Liquid concealers are highly pigmented, but frequently not very lasting and wear down fast. Pen concealers are handy and easy in use.