Two anti-age creams, for day and night, with natural ingredients in the composition and for flattening wrinkles. These are products in the Christmas Collection released by Clochee. Everyone will love this gift.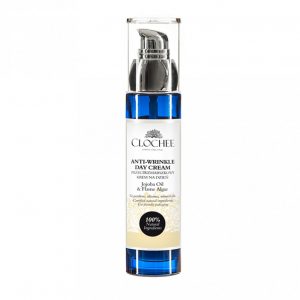 In the cosmetic set are Anti-Wrinkle Day Cream and Rejuvenating-Regenerating Night Cream. The volume of both products is 50 ml/1.7 oz.; the bottles are equipped in a pump. Both cosmetics were placed in a blue bag with silver bow. This is a perfect gift for Christmas. Cosmetics are dedicated for mature, sensitive skin with wrinkles and prone to allergies. What is Anti-Aging creams action?
Anti-Wrinkle Day Cream improves skin condition and is great as a make-up base. It flattens wrinkles, lightens the discolourations, improves skin firmness, noticeably rejuvenates. Rejuvenating-Regenerating Night Cream absorbs fast and repairs damages to the epidermis. During the sleep, skin is being regenerated and nourishing ingredients from the cream penetrate deeper skin layers. Both cosmetics contain natural substances. Among many you will find: sesame oil, coconut oil, Shea butter, argan oil, salicylic acid and hyaluronic acid.
How to use creams in Anti-Aging Collection by Clochee? Prior to application, thoroughly wash skin and use some tonic. Small amount of the product massage in the skin of face, neck and cleavage. When applying cream, perform brief massage to firm skin, boost blood circulation and speed up nourishing substances absorption. Avoid eye and lip area; this parts of face require different type of cosmetics. One bottle of Clochee cream will last for several months treatment. Products in Anti-Aging line have multiple certificates confirming them as ecological. You must try them!