Some cosmetic novelties sound like a joke told on April Fools' Day. However, this time it's not a joke. KFC created a sunscreen that smells like fried chicken. And what's even more interesting, there were 3 thousand people eager to get the product tested on their skin!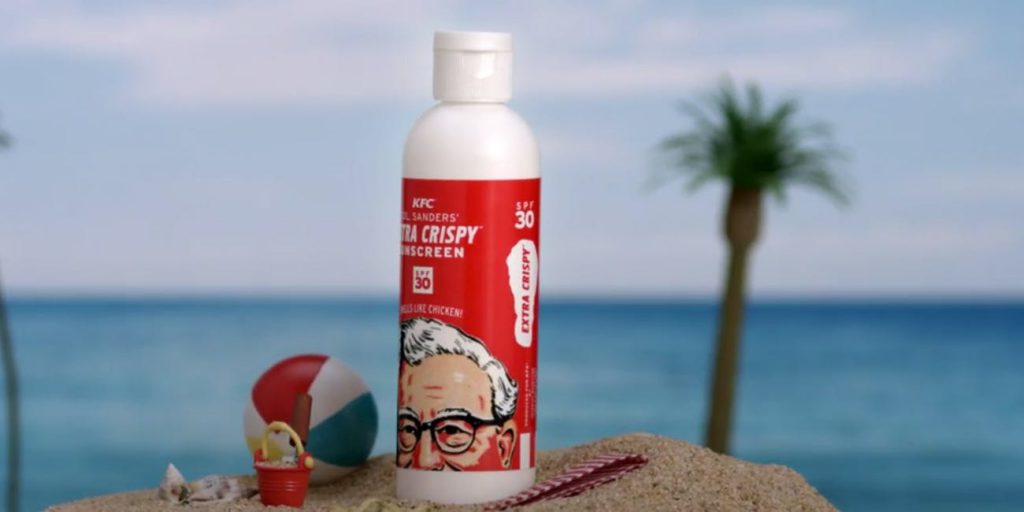 Few supposed that the popular fast food chain Kentucky Fried Chicken (KFC) would introduce care cosmetics into their offer. Lucky enough, the sunscreen of this fast food chain is probably just a flash in the plan. It's worth mentioning that a few months ago, the world was amazed by the edible nail polish of barbeque sauce flavour launched by the same brand.
This year's summer KFC surprised everybody by introducing onto the market a fried chicken flavoured sunscreen. The first puzzlement is the extravagant and quirky concept of the aroma the sunscreen has. Who would like to smell like a fried chicken on the beach? The second puzzlement is the fact that the fast food restaurant has started producing cosmetics. Double amazement.
On www.ExtraCrispySunscreen.com we can read a few words about this idea,
'The sun gives us life. But if we're not careful it also gives us painful sunburns. That's why we made KFC's Extra Crispy™ Sunscreen. Harmful ultraviolet rays bounce off your skin while the lovely fragrance rays penetrate it to give you a healthy chicken aroma.'
There were 3 000 tubes of the sunscreen produced. It's really hard to say whether it's good or bad. Although the idea of covering our body with a chicken-scented sunscreen is rather weird, the limited edition of the cosmetic was dispersed almost overnight. On the aforementioned website, there was a free giveaway of the product mainly dedicated to KFC fans.
The advertising catchword the made the product famous says: 'The only skin that should be extra crispy this summer is on your fried chicken!'
This sunscreen balm by KFC isn't edible, as the nail polish was. Let's keep our fingers crossed that none of the 3 thousand people, which got Extra Crispy™ Sunscreen for free, consumed the cosmetic tempted by the flavour of their favourite chicken. Basically, the sunscreen has a pleasant scent of food but it can be used externally only. What's interesting, KFC's Extra Crispy™ Sunscreen does really contain SPF30 and protects skin against the adverse action of the sun.