Is there a woman who dislikes visiting a beauty salon for treatments and massages? The professional salon staff will take care of you and recommend some best products. But what's the point of spending lots of money on pro treatments? You can do SPA at home! The effects will be far better. Let oils, fruit and vegetables pamper your skin.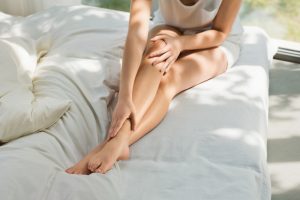 Moisturising the skin is crucial
It is said that you can prepare the best moisturising bath if you add pumpkin juice to the tub filled with water. This orange vegetable contains lots of vitamins and minerals (e.g. A, B, C), potassium, magnesium, iron, calcium, phosphor and zinc. You can also make use of the pumpkin's flesh during your bath. Boil it in one litre of water, add milk and pour into the tub. After 15 minutes, shower the skin, towel-dry it and apply a moisturising product. Thanks to such a bath, your skin will be smooth, bouncy and firm.
How to tackle stretch marks?
You must simply take a lemon bath twice a week. Pour a glass of coarse-grained salt and a few drops of lemon oil into the tub filled with warm water. You may as well use mint infusion. Pour four bags of mint tea with boiling water and add to the tub with water. After the bath, massage a moisturising balm in the whole body skin.
Get rid of cellulite
In order to remove these unaesthetic dimplings, you must do conditioning treatments regularly. Use algaes or algae gels in your bath – they contain alginic acid and can be bought at online shops. Remember about regular exfoliating scrub. Massaging dry skin with a brush is also effective.
Which oils to choose for your bath?
Oils moisturise and firm the body skin up. They deliver numerous nutrients, including vitamins, minerals and essential fatty acids. How do some oils work in skin care? Juniper oil is pine-scented and clear. It is an excellent remedy for orange peel. Lavender oil has a wonderful aroma. It is colourless or yellow. The oil enhances blood system and eliminates swellings. Geranium oil makes skin firm and elastic. It has a nice flowery and herbal scent. Grapefruit oil nourishes, energizes and tightens the skin. It helps to fight stretch marks.