As long as you aren't a supporter of green tea, you probably drink black tea daily. Perhaps you aren't aware of the beneficial action that black tea can bring. For example, this everyday drink contains antioxidants that delay skin ageing processes as well as tannins that relieve irritations and eliminate swellings. Find out how to make a good use of black tea in body care.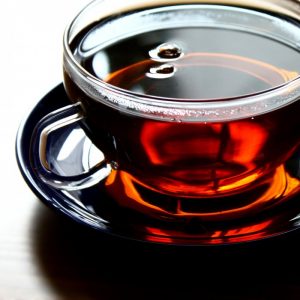 Contrary to popular beliefs, black tea has quite a few medicinal properties. It works antiseptic, counteracts free radicals and improves the performance of the body. Not without reason, it wormed its way into the cosmetic world. Black tea infusion contains a significant number of tannins of antioxidative action, caffeine improving cell oxygenation as well as vitamins (C, B, PP) which beautify skin tone. Thanks to all these features, black tea counteracts ageing of the human organism.
The easiest way to treat our skin with the black tea extract is buying the already-made products, like for example, a face cream for dry skin, a shower gel, a toner or balm. However, the obvious satisfaction derives from creating your own products at home. By making cosmetics using the black tea extract as a base ingredient, we can be sure that the composition is natural and completely safe for our skin.
What can we use the black tea extract for?
A compress for swellings under eyes
The simplest way to get rid of the swellings under eyes is a black tea compress. Brew black tea and cool it down. Take the tea bag out of the infusion and put it into a fridge and leave it there for approximately 5 minutes. Then, apply the tea bag under eye skin area and let it sit 2-3 minutes. The swellings are to disappear in the nick of time.
Refreshing foot bath
Cover two teaspoons of black tea with boiling water (more or less 250 ml), put a lid and wait 10 minutes until fully brewed. Next, pour warm water to the infusion. Then add a few drops of eucalyptus oil and dive your feet into the warm mixture. Keep feet underwater for approximately a quarter an hour.
Tea peeling
The base ingredient of this fine homemade cosmetic is either an oil of liquid consistency (for example, sweet almond, grape seed oil, jojoba oil) or a light body balm. Proportionally to 1 tablespoon of the base add twice as much of loose black tea. Massage your body skin with the peeling for a few minutes.
Steam bath to cleanse skin pores
Put two teaspoons of black tea into a middle-sized bowl and coat with hot water (best if not boiling). Lean forward so as to place your face above the steaming water, cover the head with a towel and wait 10 minutes until skin pores enlarge, cleanse and face skin becomes smoother.