You may say that Power Fabric Foundation is truly tailor-made. After all it was created by experts from Giorgio Armani fashion house. This foundation will join such products like Maestro Glow, Luminous Silk and Designer Lift. Let's see if it deserves the title of iconic cosmetic.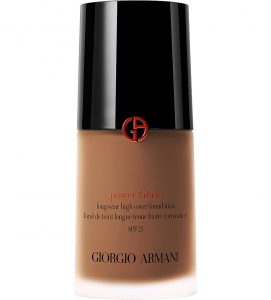 Power Fabric Foundation by Giorgio Armani has semi-liquid consistency. Thanks to it, this cosmetic is easily distributed on skin, provides perfect coverage, matte finish and incredible softness. This is why this cosmetic is recommended to people who suffer from discolourations, scars, acne and who have oily or mixed skin. The foundation does not contain any artificial substances that could cause irritations.
New foundation by Armani lasts long on skin (even up to 16-hour wear). It does not wear down, prevents the deposition in the wrinkles and on top of it perfectly blends with skin complexion. It is highly pigmented, so each of us can gain the perfect make-up. Power Fabric is available in 20 shades of brown, beige and caramel. It consists of filter SPF 25, which protects against sun radiation and prevents premature skin ageing.
How to apply Power Fabric by Giorgio Armani? Use small brush to enhance coverage and make skin complexion even. Small amount of product apply in the middle of face, then spread it towards cheeks, temples and jaw. Do not forget to apply the foundation on ear lobes, neck and along the hair line. If you aiming at even better coverage, tap Power Fabric in with the fingertips. To finish, fix the entire make-up with mattifying powder.
Power Fabric by Giorgio Armani was placed in a glass jar. For application is dedicated convenient and simple in use, pump. To perform the perfect make-up and gain full coverage, just one pump is enough. You will have just right amount to camouflage all the imperfections and make skin complexion even.